What is your idea of perfect happiness?
Lopi: laying in a hammock with my cat Inky, one foot hanging into a stream that flows nearby with warm enough water, its steady flow providing a relaxing tone to the scene. Two big dogs chilling around, and a small pagoda nearby, brightly lit inside, where my study/workplace is; mountain scenery surrounding us. Total freedom and independence from anyone and everything
Biba: crowd cheering. when a crowd is asking you to keep doing what you're doing you know that you're able to make people happy.
NoBijoux:  no technical issue on stage + whiskey
Voicu: Succeeding in life with all your goals, whilst surrounded by your close friends and your loved one. And your dog, of course.
What is your most marked characteristic?
Lopi: my tenacity, it helped me through good and bad
Biba: continous searching
NoBijoux:  patience
Voicu: my ability to view things in life through a wide perspective
What do you consider your greatest achievement? What is your greatest fear?
Lopi: Overcoming my fears and weaknesses. Not living out my dreams.
Biba: not liking Moga/ liking Moga
NoBijoux:  this band. being attacked by zombies, aliens and vampires all in the same day.
Voicu: Being able to recover and learn to play the drums, after having to quit the guitar because of a serious injury to the left hand. Looking back in life when I'm old, and realizing that I didn't accomplish everything I wanted.
Which historical figure do you most identify with?
Lopi: most probably my great great grandfather
Biba: gopo martianul
NoBijoux:  Gopo's little man
Voicu: I would go with, my great great grandfather.
Which living person do you most admire?
Lopi: my imagined ideal self
Biba: James Murphy-even a lazy man can fill up madison square garden
NoBijoux:  Marquise of Catan
Voicu: No Bijoux. Definitely.
Who are your heroes in real life?
Lopi: Vincent van Gogh
NoBijoux:  my grandfather
Voicu: Kenny McCormick. For still being alive after all this time.
What is the trait you most deplore in yourself?
Lopi: laziness
Biba: others said: not punctual, careless, selfish. I don't mind any of these. So I guess I'm careless
NoBijoux:  overflowing enthusiasm
Voicu: procrastination
 What is the trait you most deplore in others?
Lopi: lack of ambition
Biba: lack of hobbies
NoBijoux:   greed
Voicu: not being honest to yourself
What is your favorite journey?
Lopi: bike tour through the Scottish Highlands
Biba: Apparat live in Bucharest 2012
NoBijoux:  friday to Saturday
Voicu: trip to Sf. Gheorghe in the Danube Delta, during the perseids.
 What do you consider the most overrated virtue?
Lopi: Code of good manners.
Biba: wedding
NoBijoux:  coffee with cream not perfectly centered
Voicu:
Which words or phrases do you most overuse? .
Lopi: ooh la la
Biba: Shorec(mouse). When someone calls you Shorec, you surely like cheese
NoBijoux:  i'll skip this answer
Voicu: dude.
What is your greatest regret?
Lopi: all the time wasted on useless stuff
Biba: that the technology is not enough developed to go on mars, pull your pants off, sit down and relax
NoBijoux:   what's yours ?
Voicu:
What is your current state of mind?
Lopi: a lot of fear, soon to be replaced by fearlessness
Biba: "state of mind" is an overly used expression these days by young pill enthusiasts
NoBijoux:  long time no sea
Voicu:
 If you could change one thing about your family, what would it be?
Lopi: one illness
Biba: family is a gift, you just take the gift and say "thank you"
NoBijoux:  one thing is not enough.
Voicu: nothing. I like things the way they are.
What is your most treasured possession?
Lopi: my intelligence
Biba: Baba dochia – twelve lambskins
NoBijoux:  my laziness
Voicu: my dog
What do you regard as the lowest depth of misery?
Lopi: complacency and endless self pity. So called 'support groups' that just spend time complaining  instead of doing something to change the state of affairs.
Biba: when you cannot answer question no. 1
NoBijoux:  it's not the highest
Voicu: being double faced and not finding anything wrong with it
Where would you like to live?
Lopi: A place where rugged mountains meet the sea.
Biba: on mars with my buddy gopo
NoBijoux:  lake house in the mountains
Voicu: near the coast, with a Mediterranean Weather perfect for riding your motorcycle and sightseeing everyday
What is your favorite occupation?
Lopi: Producing music might be it, let's see about this..
Biba: doing romantic stuff, in the night, 3 am, listen to it's problems, trying to show what's in my mind, knowing that it could be more, patching the right cables, jackpot! ms20 could be a fun tool
NoBijoux:  not working for others
Voicu: still discovering and searching it
 What is the quality you most like in a man?
Lopi: reliance
Biba: knowing that he could be more
NoBijoux: not having cirrhosis
Voicu: honesty
What is the quality you most like in a woman?
Lopi: moistness
Biba: understanding a man who knows that he could be more
NoBijoux:  lack of neutrality
Voicu: faithfulness and, what Lopi said of course.
 What are your favorite names?
Lopi: Dan, Mara, Leon (I might be a bit biased here), Bancomata
Biba: Marcel
NoBijoux:  Jim, Beam, Johnnie, Walker, Jack, Daniel, Jameson, Justerini, Brooks…
Voicu: can't decide on one really.
What is your motto?
Lopi: Vorba frizerului, tine capul sus! (Barber's saying: keep your head up!)
Biba: Lovim G-ul
NoBijoux:   honda helix
Voicu: what goes around comes around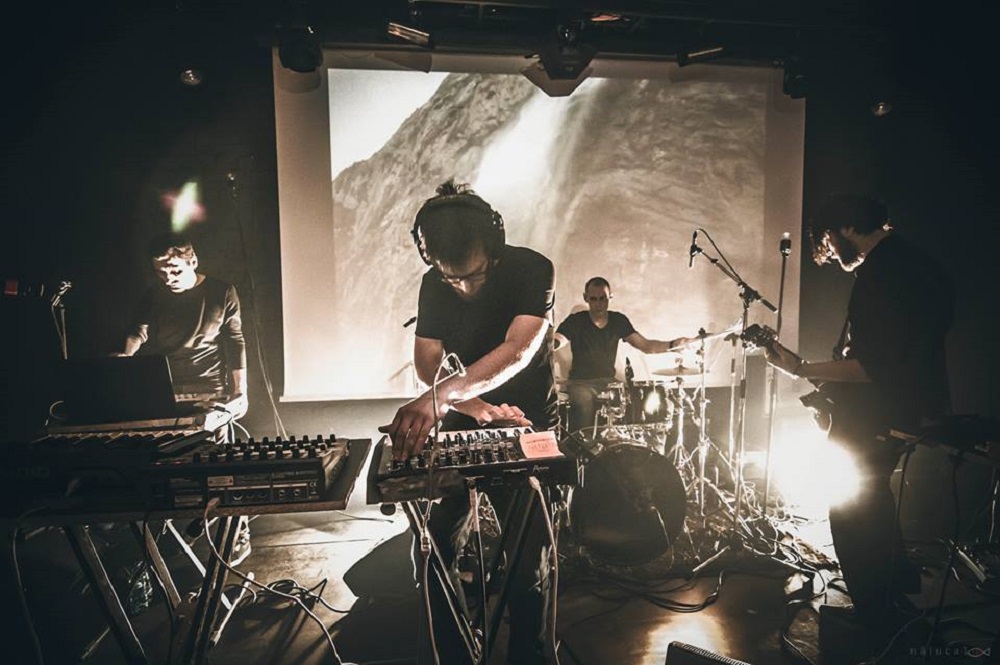 ---