When did you start making music and what was the contributor factor that made you to do so?
My music journey started back when I was 15 years old, and started taking singing lessons. I remember covering my favorite artists that have inspired me a lot through my journey (Amy Winehouse, Etta James, Lauryn Hill, Michael Jackson). I took a 2 year-break to focus on my dance journey – I fell in love with street dance at 19 years old and until the present moment it represents the key factor of my evolution as an artist.

Discovering new Hip Hop & RnB & Soul music that I could dance to, inspired me to write my very own lyrics and humm my own sounds.

At 22 I saw myself in a home studio, singing my own verse on a random instrumental and that was just a start for my creative process.

I'm 23 now, I have a lot of bottled feelings, thoughts and ideas I would like to materialize and share with the curious ones. 😊
How hard was it for you to create, record and release your first material?
Wooh, it wasn't very hard to create it. I honestly have moments when beats just spark my mind and I was lucky I had a pen and paper around me. I respect my intuitive verses that just come out when I hear the beat, so I don't like to modify it very much, when I try to `perfect` it.

On the other hand, it felt pretty hard, as a beginner to find a new studio that could make my ideas come true in the way I felt it. Luckily, I had a magical synchronicity that brought me into the current DSPro studio, where my identity and ideas felt really welcomed.

I was pretty nervous of the final result, but I'm happy with it. I mostly focus on enjoying the process, as it is a tool for me to own my identity, personality and experiences.

The fact that I decided to make my work public was also a triggering point for me, but I embrace the volatility art has and I trust the overall process that hopefully will conduct me to my evolution.

I am really honored and grateful for the people supporting me and enjoying my music, I really want people to feel understood and to vibe on my sound.
What is the main art form that influenced you in creating? Was it only music or did movies and other forms of art influenced your creative process?
It sure was! As I have mentioned, my street dance journey brought a lot of meaning to my life, and made me embrace myself and express myself (physically), it opened me and made me feel powerful while vulnerable.

Music is the biggest inspiration that I look forward to hearing everyday. I love discovering new sounds from very hidden artists.

I also get inspired by daily experiences and people, nature or art in general.

 
What are the steps that an idea takes before becoming a fully fledge song? And how does that idea affect the way you build an album from the ground up?
Firstly, I have to envision it. It can come from a basic word I revolve my whole song around.

It can be a state, feeling, object, emotion. I just go with the flow, I don't force my creative process, I just look for everyday inspiration. I let myself sleep on them, and then I just make sure I'm ready to write them down, whenever they surprise me.

I also tend to listen to an instrumental, humm random words, come up with different melodies and harmonies and let it flow.

In conclusion, the time can vary, there's no specific recipe.

 
What do you consider the most important traits that a song and an album must have before you consider it to be completed?
To be true to your being.

To provoke the imagination and ear.

To be able to be described in one word.

Harmony of sounds.
What are the actual steps that you take when you are creating? Do you need to enter or go to a certain setting in order to get creative?
The setting helps me invoke a certain mood for taking my time, feel my emotions and be in tune. But ideas can come whenever, I just make sure I am aware of my thoughts and emotions and build a comfortable moment for me to write or just envision a movie that can help me materialize the words that describe it.
Except art are there any other external or internal factors that influence you when you create, if so what are they?
People, emotions, conflicted states, cultures, human nature, astrology, spirituality, nature, phenomena.

 
What is your main motivation to create and be creative?
My inner balance. Creating is a process that makes me discover myself and stay true to myself.
How long does it take to go from a song to an album from scratch to the fully recorded version?
I don't have an album out yet, but I look forward to it! I think it depends on the time you are ready to call it an album.
Do you take multiple takes of the songs before settling on the final version or do you go with the flow and just do one take?
I normally tend to do one take of the whole song. I did take 1-2 more takes to be able to choose, but honestly 90% of the time, the first one is the best one, because all they energy you wanted to take out is there. Of course, if there's a certain word I would like to spell differently, I could even have 5 takes for that one word. *laughs*
During live shows what do you like to do more, experiment and improvise on the basis of the existing album and songs or you are more likely to recreate the recorded material as faithfully as possible?
I did live shows, only covering other artists, I normally do my own version of the songs and be as much as I can in the present moment. That means, 2 shows won't ever sound the same.

 
What are the main ingredients that makes a live show special for you?
Being nervous, hearing myself so loud, being empowered in vulnerability, loss of time.

 
Do new ideas appear during live performances? If so how to do you proceed in order to materialize them?
Currently haven't done live shows in years. But if any idea will pop in the future, I will go for it!

 
What is the perfect time of day and weather that makes you creative?
Early morning, when I drink my coffee alone, or evening, alone as well.

 
What are your future plans and what advice do you have for people that want to get into creating music?
Future plans?
I will keep on creating and re-creating myself and enjoy this blessed gift.

I look forward to have many of my poems and songs out, I currently just released my new single – Karamel Dreams –  I'm being consistent hahah.

I won't call it advice, I will just say this: Life is too short and unpredictable to not know yourself, not express it, and not live the way you want to. You can take this how you want.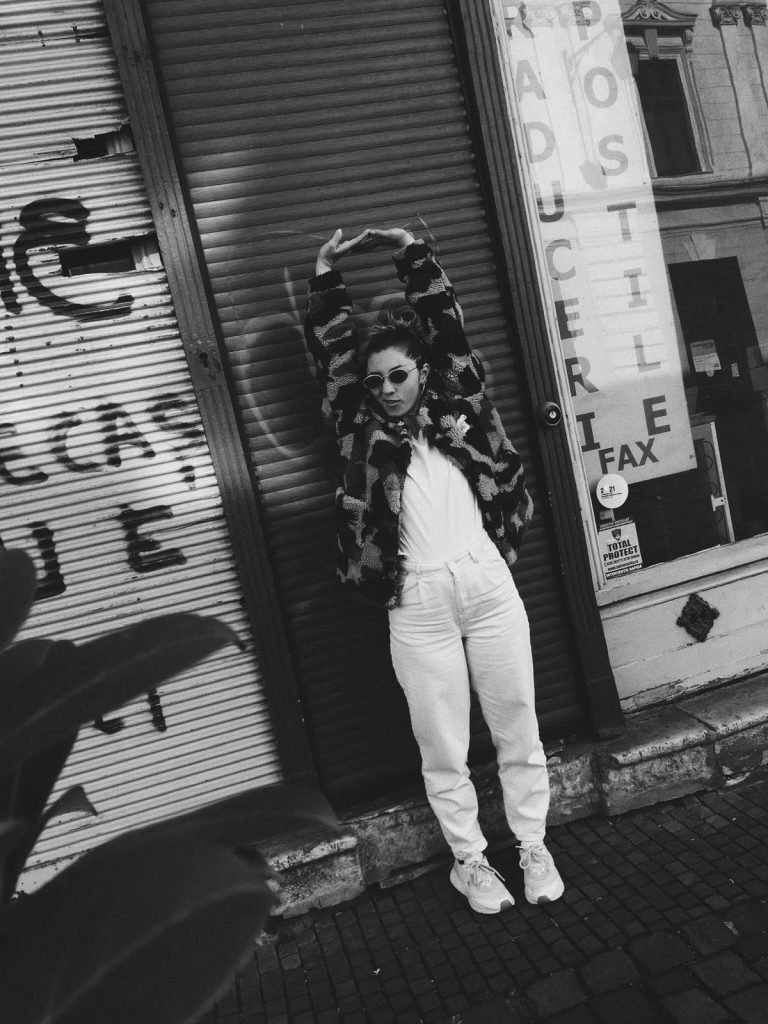 ---